6 Ways to Glam Up Your Ramen in Under 5 Minutes
Quick and easy tips to feel fancy af about your ramen noodles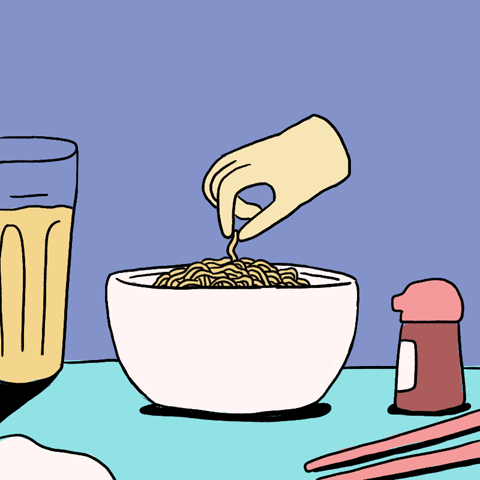 We've said it before and we'll say it again — Ramen is Magical. What other food can act as simple sustenance for your study cave on a Monday and transform into a delicate date night dinner with just a few flourishes on the weekend?
"Easy" may beat out "Fancy" nine times out of ten in our lives, but why settle for one if you can have both? Here are 5 simple ways to punch up the flavor and feel of the world's favorite heat-and-eat meal:
1. Eggs
I'm so. F-ing. Grateful. For my. Eggs. All yolking aside, no matter how you take them, eggs are a sure-fire path to better ramen. Soft-boiled, poached, or even scrambled — adding an egg helps you achieve a creamier broth and richer flavor every time.
Eating one of our ramen kits in the office? Use this chef-approved trick to poach your eggs in the microwave.
2. Sriracha
For those of you who've been living under a rock lately, we're here to tell you that sriracha is the single best thing to happen to condiments...maybe ever. This sweet-and-spicy nectar of the gods is the perfect way to turn up the heat on your at-home noodle bowls (and be sure to grab one of these convenient keychains to take your sriracha obsession on-the-go.)
3. Veggies
Show some love to those neglected frozen veggies you have buried in your freezer. Peas, broccoli, corn — really anything will work. Rinse under warm water for a minute or two to allow the veggies to defrost, then toss into to your broth prior to heating.
4. Kimchi
Bring on the 'biotics. This classic Korean staple makes for a salty and flavorful addition to any ramen bowl. Kimchi is also loaded with vitamins A, B, and C, as well as healthy bacteria that aid in digestion.
5. Sesame Chili Oil
Many ramen shops swear by chili oil, which clings to the noodles and evenly distributes a spicy, slightly smoky flavor throughout the bowl. Careful, though — a little goes a long way with this fiery finishing touch.
6. Shredded Chicken
For those of you busy parents looking for a time-saving hack, use a pre-cooked rotisserie chicken to add some protein to your ramen. Added Bonus: when you're done with the chicken, you can use the carcass to make your own homemade chicken bone broth!
Didn't see your favorite toppings on the list? Be sure to let us know in the comments -- we're always on the hunt for irresistible ramen recipes. Happy Slurping!